« Click here to go back
October 2020 SPE-SA Technical Luncheon
Event Details
Event Date
20th Oct 2020
Time
12.00pm for 12.30pm start
Duration
2 hours

Registration Details
Closing Date
17th Oct 2020
Registrations Available
12
SPE Member
$45.00 ea
Students
$20.00 ea
General
$65.00 ea
Online registration for this event has closed
Description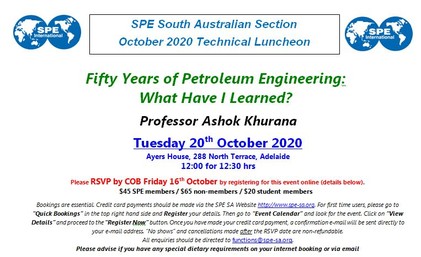 Fifty Years of Petroleum Engineering: What Have I Learned?
Professor Ashok Khurana
Tuesday 20th October 2020
Ayers House, 288 North Terrace, Adelaide
12:00 for 12:30 hrs

Please RSVP by COB Friday 16th October by registering for this event online.
$45 SPE members / $65 non-members / $20 student members
Abstract:
Having practiced petroleum engineering for more than 50 years in technical, managerial, research, teaching and consulting capacities, I have learned that dealing with people related matters are the most challenging, rewarding and value creating. Finding the right technical solution is less than half the challenge, persuading someone else that it is the right way forward and making it happen is a much greater challenge.
The five most important lessons I have learned; all related to human mindset factors:
(1) People are the most important asset for realizing Value
(2) Interdisciplinary Co-Operation is Critical for Effective Reservoir Development and Management
(3) Fit for Purpose Analysis adds Most Value
(4) Doing the Basics Right adds Much More Value than Most Leading Edge Analytical Technologies
(5) Uncertainty and Risk Management is the Biggest Technical and Economic Challenge

Biography:
Ashok is currently Honorary Adjunct Professor at The University of Adelaide and Research Program Director of Climate Change and Energy Transition in the Stretton Institute. Concurrently he is Consultant and Technical advisor to Petronas. He has a total of more than 54 years international experience in the Petroleum Exploration and Production industry comprising about 5 years as Professor, Australian School of Petroleum, 6 years as APCRC Professor of Petroleum Engineering at UNSW and Founding Professor of Petroleum Engineering, Curtin University, 5 years graduate research in Petroleum and Chemical Engineering and more than 35 years worldwide industrial/consulting experience in Petroleum Engineering, Safety, Environmental Affairs and Technical Management. He was Drilling Engineering and Wellbore Stability Research Programme manager for CSIRO and the Australian Petroleum Co-Operative Research Center (APCRC). Ashok's industrial experience includes 5 years as General Manager, Petroleum Development and Planning with Santos, about 20 years with Exxon/Esso in supervision, and technical management of all aspects of developing, managing and producing oil and gas reserves across Asia Pacifc and North Sea assets. As Safety and Environmental Affairs Manager for Esso UK, he helped define industry response to Lord Cullen's Piper Alpha Inquiry and the development of Exxon's worldwide Operations Integrity Management System (OIMS). Ashok supports several philanthropic educational endeavours including sponsorship of Undergraduate and Graduate scholarships in Arts, Science, Engineering and Music at The University of Adelaide and at Amity University, India. He was Director of SPE International and has also served in various other honorary SPE positions.
Venue
Venue
Ayers House
Address
288 North Terrace, Adelaide, SA 5000