« Click here to go back
2021 SPE-SA Networking & Movie Night 2
Event Details
Event Date
30th Sep 2021
Time
5.45pm for 6 pm START
Duration
3 hours

Registration Details
Closing Date
28th Sep 2021
Registrations Available
83
SPE Member
$5.00 ea
Students
$5.00 ea
General
$15.00 ea
Description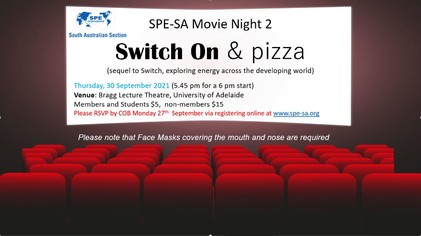 Abstract:
Energy fuels the engine of the modern world and has the power to bring billions more out of abject poverty. Because energy reaches into every facet of our lives, it is highly political. Biases and emotions run deep, and facts and data are often distorted, or worse.
Switch On, the highly anticipated sequel to Switch, exploring energy across the developing world. Across developing Africa, Asia and Latin America, billions of people suffer from the lack of safe and reliable energy– impacting education, food supply, healthcare, and the economy. In the sequel to the celebrated 2012 film Switch, join Dr. Scott Tinker on an amazing global adventure, to meet people and communities as they Switch On. In a journey that's enlightening and emotional, uplifting and unforgettable, Switch On will change the way you look at energy and the developing world forever.
Biography:
Dr Scott Tinker is an internationally renowned energy expert and public speaker, director of the Bureau of Economic Geology, the State Geologist of Texas, a professor holding the Edwin Allday Endowed Chair of Subsurface Geology in the Jackson School of Geosciences at The University of Texas at Austin (UT), director of the Advanced Energy Consortium, and Chairman of the Switch Energy Alliance. He spent 17 years in the oil and gas industry prior to joining UT in 2000.
Tinker coproduced and is featured in the award-winning energy documentary film Switch, which has been screened in over 50 countries to more than 15 million viewers and is used on thousands of K-through-12 and college campuses.
Dr. Tinker has also served as president of the American Geosciences Institute (AGI), the Association of American State Geologists, the American Association of Petroleum Geologists (AAPG), and the Gulf Coast Association of Geological Societies (GCAGS).
SEA was formed to inspire the public to learn about energy, engage in informed conversations, and make smart decisions about our global energy future. As a non-profit based, SEA's goal is to create objective, film-based resources that can be used by students, educators, or professionals to learn about the importance of energy in the world today. SEA's global video and web-based approach engages students and general viewers in a positive conversation to work collaboratively on energy challenges - where they live and learn: online, in classrooms, in professional training, and in museums.
Venue
Venue
Braggs Lecture Theatre (G.60)
Address
The University of Adelaide
Other Info
Please note that Face Masks covering the mouth and nose are required