« Click here to go back
39th Annual PESA / SPE Golf Day
Event Details
Event Date
16th Mar 2018
Time
9.45
Duration
All Day

Registration Details
Closing Date
30th Jan 2018
Registrations Available
0
PESA Member
$105.00 ea
General
$140.00 ea
Online registration for this event has closed
Description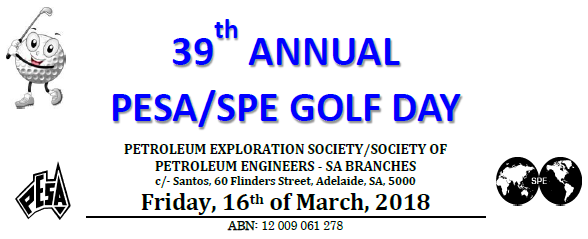 Dear Member,
We are pleased to invite you to the 2018 PESA/SPE Golf Day. This year marks the 39th anniversary of the PESA/SPE Golf Tournament in support of the Royal Flying Doctor Service. Over the last twenty years in excess of $366,000 has been raised for this most worthy cause.
Click HERE for full event details and application
The tournament will be held on Friday, 16th of March, 2018, at Flagstaff Hill Golf and Country Club. All players are required to register with the starters before 9.45 a.m. with players moving onto the course at 10:15 a.m.
All aspiring golfers are welcome irrespective of their handicap - provided they are PESA or SPE members (any branch) or sponsor's representatives. Following the success of last year's event, the Adelaide PESA/ SPE Golf Tournament will be played as an Ambrose competition. Dinner and presentations will be held in the Club House at approximately 6.00 p.m. Only those players attending the dinner are eligible to win prizes.
Lunch and light refreshments will be provided whilst negotiating on-course obstacles. The course is well "watered" and most golfing requirements will be found in the "grab" bags.
Players are reminded that Flagstaff Hill is a private Golf Club and thus acceptable dress, including collared shirts, is a club requirement on the course. Attire such as jeans, tracksuits and shorts are not acceptable. A detailed description of dress standards, which will be enforced by Flagstaff Hill Golf Club, is attached. Also, only buggies with wide, slick tyres will be permitted on the course and soft spikes are now compulsory.
Buggies and clubs can be hired from the Golf Course ONLY through Emma Mitchell (Flagstaff Hill Function Coordinator) on (08) 8270 2300 – option 2 or via email admin@fhgc.com.au. Please book early, especially left-handers.
We will be raffling a set of golf clubs (complete with a golf bag) for charity so be prepared to back your skills with the Bookies.
The entry fee for the tournament is $105.00 per head for PESA or SPE members or $140 for non-members, and this covers green fees, on-course lunch and refreshments, pre-dinner drinks and dinner. For those non golfers, attendance at the dinner only is $55.00. Please note that these charges apply to all participants regardless if you are a member at the FHGC.
Please submit the attached registration form to Claudia Fintina (Email: Claudia.fintina@santos.com), and the appropriate payment (cheques payable to "PESA SA") by 10th of March, 2018. Please remember that a separate registration form is required for each player.
Should you wish to pay electronically the procedure is as follows:
Mail or email the registration form to Claudia Fintina (Email: Claudia.fintina@santos.com)
In the "to Account description" box identify yourself by initial + surname followed by Golf
Eg. If your name is Tom Brown plse use ID

of

TBrown Golf
Name of Account: PESA SA BSB: 036-011 Account No. 324507
As in previous years, a large turnout is expected, so book early to avoid disappointment.
Click HERE for full event details and application
Look forward to your company,
Andy Pietsch and Claudia Fintina


PS: To assist the Bookies on the day, please be prepared and carry coins or small notes. All money raised goes straight to the Royal Flying Doctor Service.
All correspondence to be forwarded to:
Claudia Fintina
Santos House,
Level 3
60 Flinders Street
Adelaide SA 5000
Venue
Venue
Flagstaff Hill Golf and Country Club