« Click here to go back
September 2018 SPE - EA Technical Luncheon
Event Details
Event Date
12th Sep 2018
Time
12.00pm for 12.30pm start
Duration
1 hour 15 minutes

Registration Details
Closing Date
11th Sep 2018
Registrations Available
57
SPE Member
$20.00 ea
EA Member
$20.00 ea
Students
$15.00 ea
General
$50.00 ea
Online registration for this event has closed
Description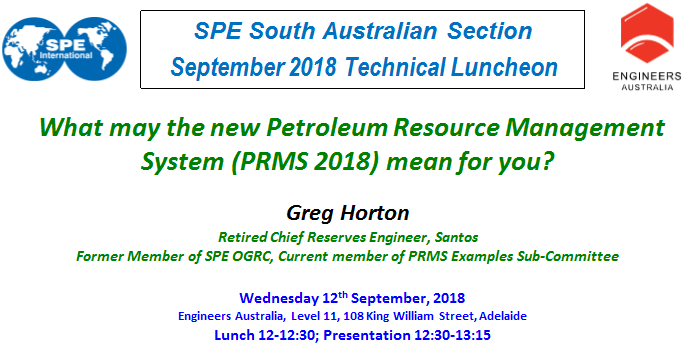 Abstract:
What does the recently released PRMS 2018 mean for reserves and resources evaluation and recognition to comply with PRMS 2018?

SPE has just released PRMS 2018 which is an update to PRMS 2007. It has been more than 5 years in the making! We are yet to hear if, when, how and to what extent, the ASX will update the listing rule requirements for oil and gas companies reporting on the ASX.

This meeting will overview Greg's view of the major changes and potential implications for reserves and resources evaluation and recognition in accordance with PRMS 2018. Greg has been intimately involved with the process for most of the period of the update and will share his views. These views are not necessarily the views of SPE which are yet to formally be advised.

Various industry education programs and other materials are being prepared by SPE and other groups to assist rollout of the update and these should clarify interpretations. The link below takes you to an SPE site with the updated document and upcoming educational programs. Greg aims to attend the workshop in London and can take queries for discussion there.

Please read PRMS 2018 before coming to the meeting! https://www.spe.org/industry/reserves.php


Biography:
Greg has over 33 years of petroleum reservoir management experience in on and offshore Australian and Southeast Asia oil and gas fields, conventional and unconventional, particularly in optimising the value of assets through evaluation and implementation of projects and in assessment and reporting of petroleum reserves and resources. He has worked in many petroleum, reservoir, planning engineer and financial roles in the field, and office.

Greg in particular is intimately aware of the requirements of the PRMS (Petroleum Reserves Management System) and the recently released PRMS 2018 though his extensive voluntary contribution to the update. He has undertaken substantial industry training and reserves estimation workshops and panel sessions in the United States, Penang, Adelaide and Brisbane, and managed extensive external reserves or resources audits.

Greg's credentials include an Honours Degree in Engineering, an MBA, past Chairman of the SPE SA Section, past member of the SPE's International Oil and Gas Reserves Committee (OGRC) (2011-14), current member of the PRMS Examples Sub-committee and JCORET and current Reserves/Asset Management co-technical reviewer for the Journal of Petroleum Technology (JPT). He has a long association with Engineers Australia and is a Chartered Professional Engineer (CPEng) and is on the National Engineering Register (NER) and Registered Professional Engineer Queensland (RPEQ).


Venue
Venue
Engineers Australia
Address
Level 11, 108 King William Street, Adelaide