« Click here to go back
June 2022 SPE- Technical Luncheon
Event Details
Event Date
1st Jun 2022
Time
12:00 for 12:30 hrs start
Duration
2 hours

Registration Details
Closing Date
30th May 2022
Registrations Available
94
SPE Member
$45.00 ea
Students
$20.00 ea
General
$75.00 ea
Description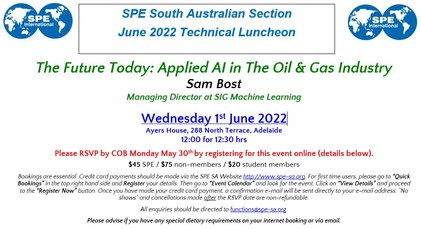 The Future Today: Applied AI in The Oil & Gas Industry
Sam Bost
Managing Director at SIG Machine Learning
Wednesday 1st June 2022
Ayers House, 288 North Terrace, Adelaide
12:00 for 12:30 hrs
Please RSVP by COB Monday May 30th by registering for this event online.
$45 SPE members / $75 non-members / $20 student members
Abstract:
Industrial A.I. - The What, Where, How & Why
Key Talking Points:
What is Next-Generation Engineering? (Introduction of 'Production Engineer 2030', emerging skills/tech)

A.I. Augmented Oilfield/Fleet Management (talk about what, where how and why)

Use Case: SmartPCP - A.I. Augmented Multivariable Cloud Control for Well Fleets (showcase for the what, where, how and why)
Biography:
Sam is the Managing Director at SIG Machine Learning Pty Ltd., an engineering led A.I. technology start-up based in Brisbane, Australia. With a background in Petroleum Engineering, Sam has actively developed Machine Learning (ML) solutions across D&C, Production and Reservoir Engineering domains. After taking out international data science competitions across multiple industries, Sam has been managing SIG ML full-time since early 2021. Currently, SIG ML is focussed on the deployment of multivariable A.I.-augmented supervisory control solutions for well optimisation and turndown management.
Venue
Venue
Ayers House
Address
288 North Terrace, Adelaide