2014 APOGCE Dinner gets all spooked up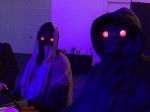 Posted on: 26/11/2014
By Mark Pitkin (Beach Energy), SPE South Australian Section Chair, 18 Nov 2014
International and interstate conference delegates might have thought that the 2014 APOGCE Conference Dinner, held on Wednesday 15 October, would be the typical suit and tie affair. However, when combined with SPE South Australian Section's infamous fancy dress themed Annual Dinner, the locals and some out-of-towners let loose with the creative juices and spiced up the atmosphere. And what better theme to choose than Halloween?
More than 340 guests were greeted at the door by an amazing Gene Simmons complete with platform boots and wielding his axe guitar, a prize winner in the best-dressed category. Walking through the smoke-filled ghoulish-green tunnel, guests entered the ballroom to find it decorated with pumpkins, witches on broomsticks, spiders and populated with vampires, skeletons, zombies, beetle-juices, Jokers, groupies, pimps and glowing red-eyed ghouls.
The band, Shaken not Stirred, brought the zombies to life and everyone enjoyed a fantastic night of great food, marvellous wines - chosen to unashamedly show off South Australia, and wonderful company.
The 2016 SPE President, Dr Nathan Meehan and APOGCE Conference Chair Diana Hoff, had the daunting task of awarding the best dressed prizes to four deserving candidates, the photographs tell the story (see photos here).
Thank you to all the dinner sponsors, without which the event would have been a little less grandiose:
Gold Sponsors: Halliburton, Santos, Baker Hughes, GE Oil & Gas
Silver Sponsors: Beach Energy, Thru Tubing Solutions, Condor Energy, SGS, Petrolab, Newpark Drilling Fluids, National Oilwell Varco
Wine Sponsor: Vino Mofo
The SPE South Australian Section would also like to thank the event organisers, David Lindsay (Beach Energy) and Mary McGowen (Halliburton), who generously gave their time to make this event so enjoyable.
We hope to see you again next year!