2016 APOGCE Call for Papers Open!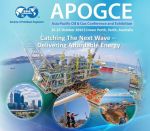 Posted on: 03/11/2015
SA Section members and non-members are reminded that the Call for Papers for the 2016 SPE Asia Pacific Oil & Gas Conference and Exhibition (APOGCE) is currently open until 4 December 2015.
The conference will be held from 25-27 October 2016 in Perth, and themed 'Catching The Next Wave – Delivering Affordable Energy'.
For more information, please view the official Call for Papers on the 2016 APOGCE website:
http://www.spe.org/events/apogce/2016/documents/16APOG-Call-For-Papers.pdf
Submissions to date have been low, particularly from operators. Please consider submitting a paper as knowledge sharing and collaboration are a key to driving efficiency and improvements during this period of industry downturn.
Please contact klprog@spe.org with any questions. We look forward to seeing SA Section well represented at the conference!