2016 South Australian SPE Scholarship Awards Presented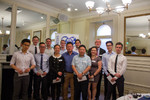 Posted on: 11/11/2016
2016 South Australian SPE Scholarship Awards Presented
By Mark Duerden (SPE SA Scholarship Chair)
The South Australian SPE scholarships are awarded annually to outstanding students in the field of petroleum engineering. Applications are sought from students enrolled at University, including masters and post-graduate students.
The recipients of this award for 2016 include; Shuyan Yang, Yang Yu, Sean Ng, Mitchell Lukasz, Megan Sharman, Long Nguyen, Phuc Nguyen, Tu Tran, Samuel Bost, Daniel Milne, Jack Dearing, Travis McCallum, Christopher Chen, Matt Nash, Yang Fei.
Scholarship applicants are assessed by the South Australian SPE committee based on academic achievement, enthusiasm towards the industry, extra-curricular activities and financial hardships such as remote relocation. This year more than 40 scholarship applications were received.
More than $15,000 AUD in prizes were awarded to the scholarship winners of 2016. The awards are aimed at motivating students during their studies as they make their way into the petroleum industry.
Applications open in April next year for our 2017 South Australian SPE scholarships. For further information on these scholarships, please contact the South Australian SPE scholarship chair at scholarship@spe-sa.org
Image caption:
Front row: from left to right- Phuc Nguyen, Sean Ng, Shuyan Yang, Yang Yu, Yang Fei , Megan Sharman, Christopher Chen, Samuel Bost
Back row: from left to right – Mitchell Lukasz , Daniel Milne, Jack Dearing , Matt Nash, Mark Duerden (Scholarship Chair)