August Membership Benefit Highlight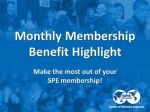 Posted on: 13/08/2015
Are you making the most of your SPE membership?
The SPE South Australian Section Committee is highlighting a different member benefit at Technical Meetings each month, to increase awareness of the full value of SPE membership.
For August, the member benefit highlighted is the SPE Bookstore Discounts.
Did you know that SPE members generally receive a 50% discount, more for some titles, at the SPE Bookstore (http://store.spe.org/)?
The discount does vary by title but as an example, the list price of the 'Applied Drilling Engineering' book is US$80, while the member price is only US$40.
Don't forget to keep your SPE membership current to take advantage of all membership benefits, or consider becoming a new member today - http://www.spe.org/join/