Education & Teachers' Day Strikes a Chord with Students
Posted on: 13/11/2014
On Wednesday 15 October, 69 students and teachers from seven schools participated in Education & Teachers' Day, which was organised in conjunction with the 2014 Asia Pacific Oil & Gas Conference and Exhibition (APOGCE), held at the Adelaide Convention Centre from 14-16 October 2014. The event aimed to introduce high school students in grades 9 and 10 and their teachers, to Petroleum Engineering and the broader oil and gas industry.
"The diversity in student participation was very encouraging, with 35% females and 65% males, as well as three public schools and four private schools participating," said James Griffiths, 2014 APOGCE Education & Teachers' Day Chairperson.
"A teacher informed us that after attending Education Day, at least two of his students switched to include Science, Technology, Engineering and Mathematics (STEM) subjects in their Year 11 enrolment next year," he added. "We were extremely pleased to hear the event has made a difference."
The day kicked off with a welcome from 2016 SPE President Dr Nathan Meehan, who broke the ice by demonstrating his juggling abilities while sharing insights to the industry.
After a quick 'Mythbusters' quiz designed to challenge common misperceptions, local SPE members Carrie Trembath (Beach Energy) and Steven Travers (Baker Hughes) explained how oil and gas is discovered, extracted and turned into everyday end-products.
A number of hands-on-activities followed to reinforce concepts learned and to spark interest – these included a close look at core samples (courtesy of Nick Lemon, Santos), mixing frac fluids (courtesy of Mary McGowen and team, Halliburton) and an intense Energy4Me game 'Peak Oil' (courtesy of Jenni and Lou, SPE).
Inspired (and loaded with freebies), the day concluded with a presentation on school subject choices recommended for engineering and a quick Q&A and Feedback session.
The Teachers' Day programme was split off in the afternoon, to enable teachers to receive comprehensive, objective information about the scientific concepts of energy and its importance in society.
Special sessions were organised, resulting in the teachers spending time with 2016 SPE President Dr Nathan Meehan and Energy4Me instructors, Jenni and Lou, who flew in from Texas and Dubai for this event. A higher level exhibition tour was also conducted.
The SPE South Australian Section would like to acknowledge and thank James Griffiths and Nicole Ditty for their hard work and dedication over the past 18 months to make the event an absolute success.
Thank you also to all the aforementioned presenters and the following volunteer tour guides: Sandy Menpes, David Maggiori, Paul Weller, Cari Bertram, Nick Kwok, Eleni Papadopoulos, Charles Nweke, Kevin Christofanelli, Aaron Crosley, Raman Dhanda, Troy Francis and Xin Yun Tan.
Further information on 2014 APOGCE Education & Teachers' Day is available at: http://www.spe.org/events/apogce/2014/pages/schedule/education_day.php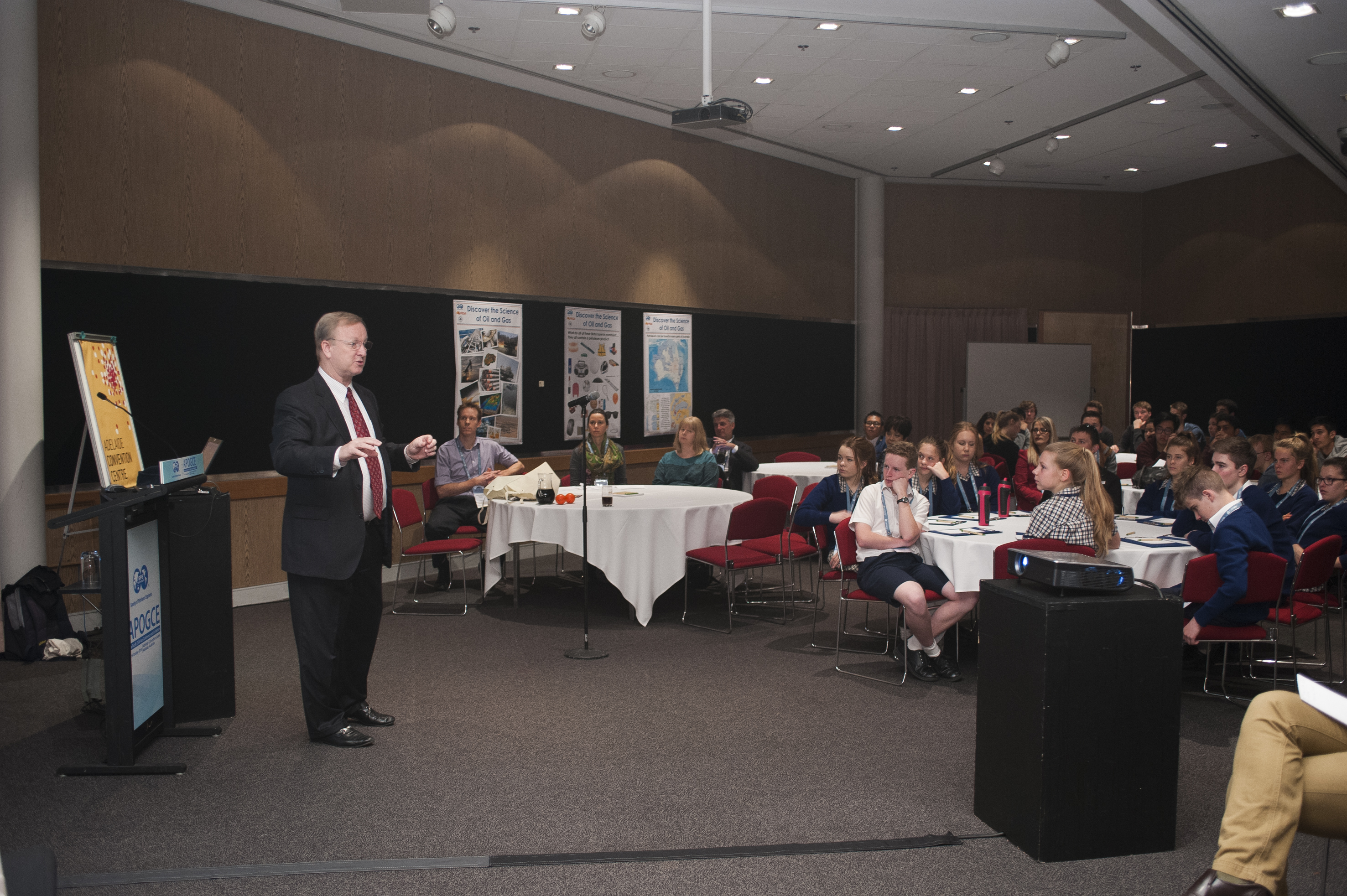 2016 SPE President Dr Nathan Meehan opens Education & Teachers' Day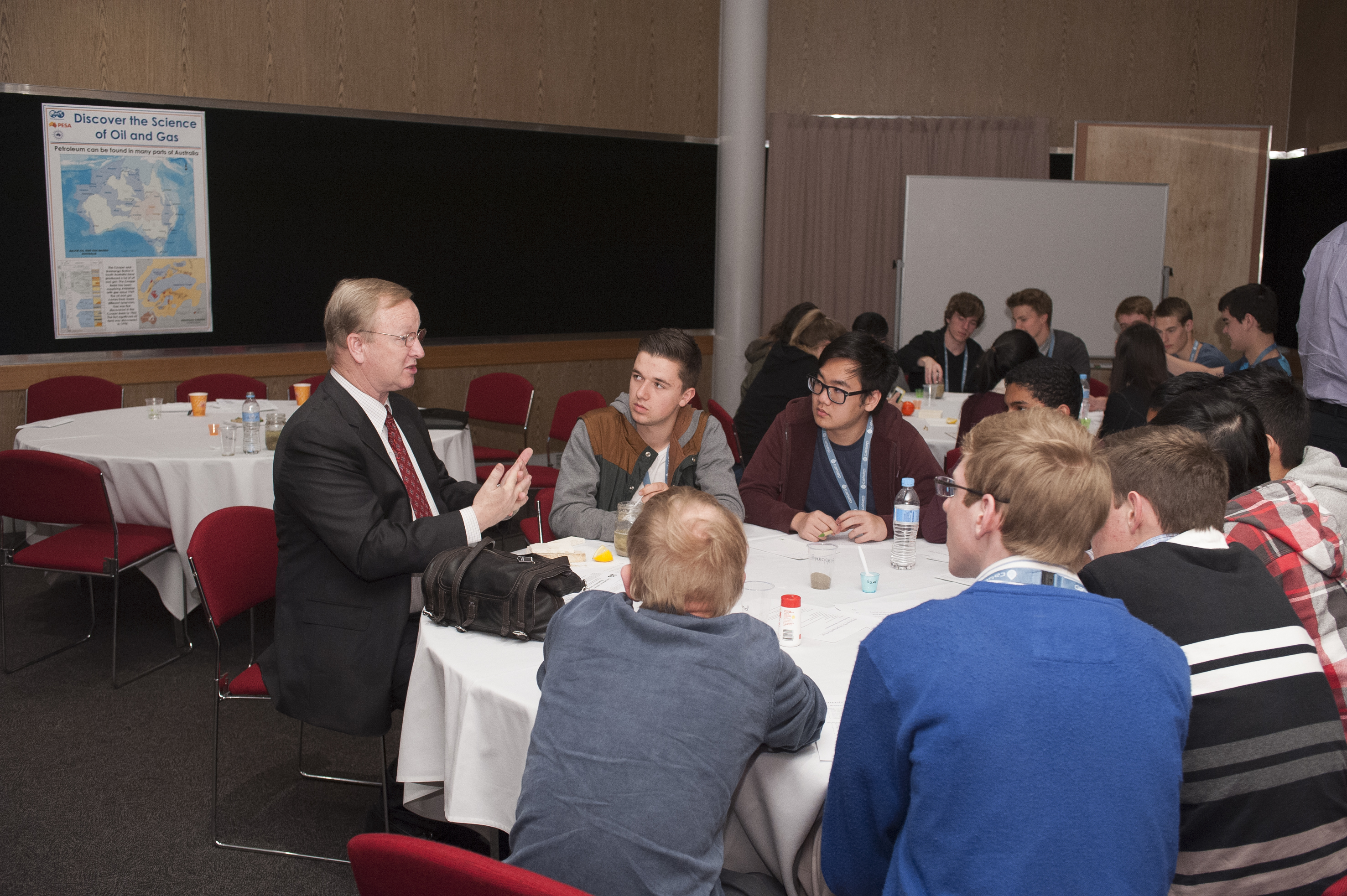 Students receiving a frac lesson directly from Nathan the 'Fracmeister'!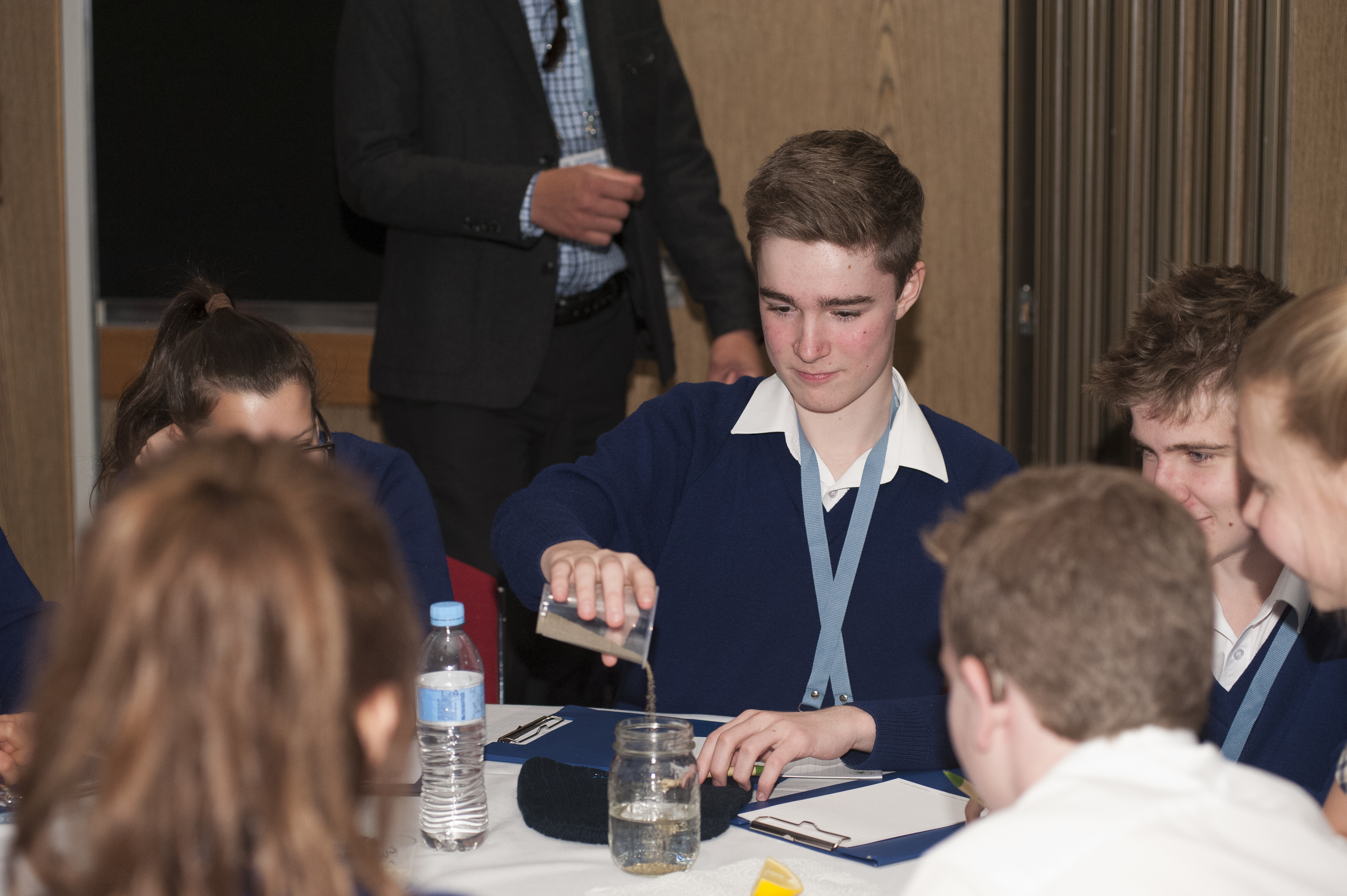 Frac Fluid Activity – here we go…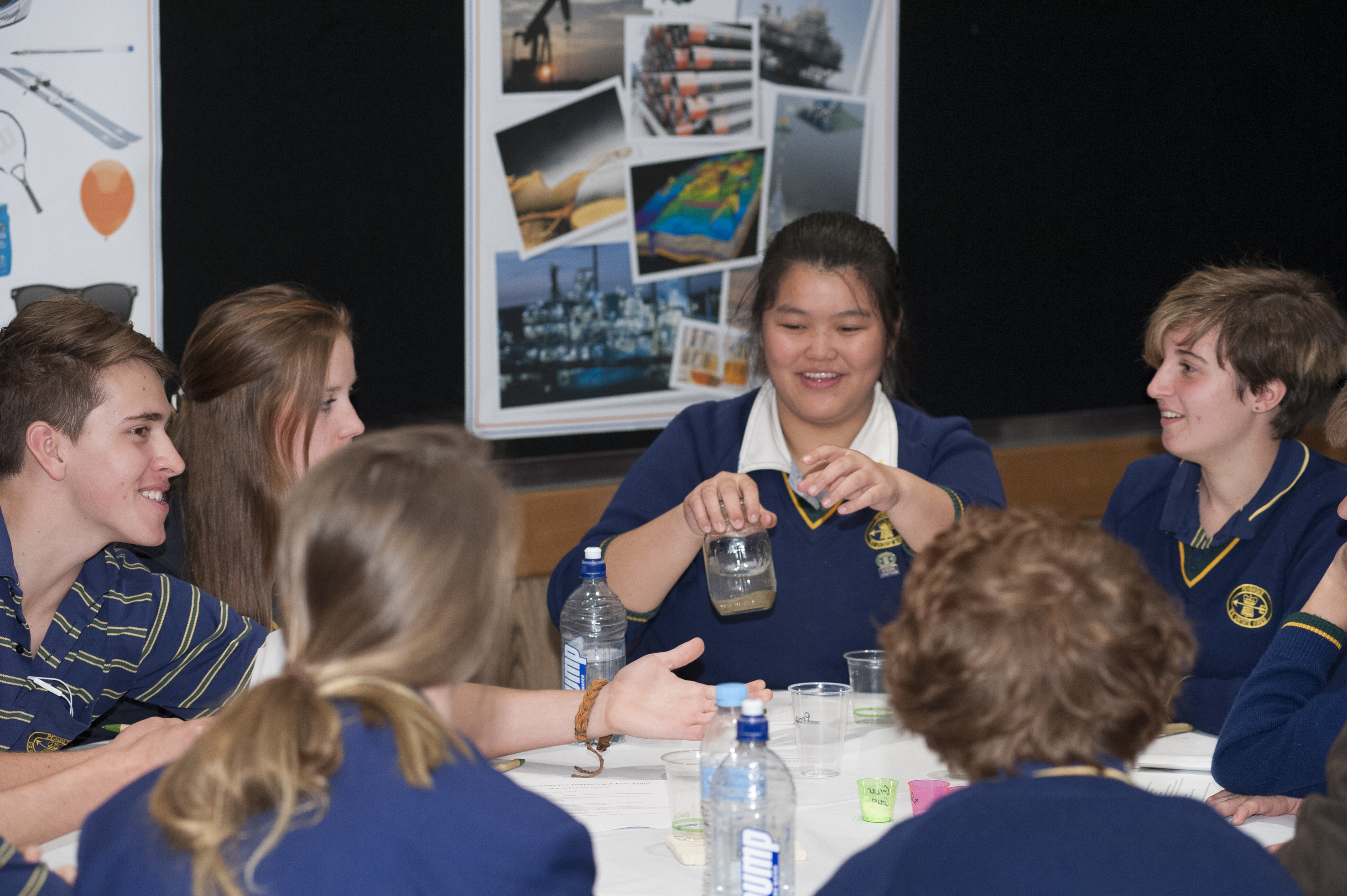 Give that bottle a good shake!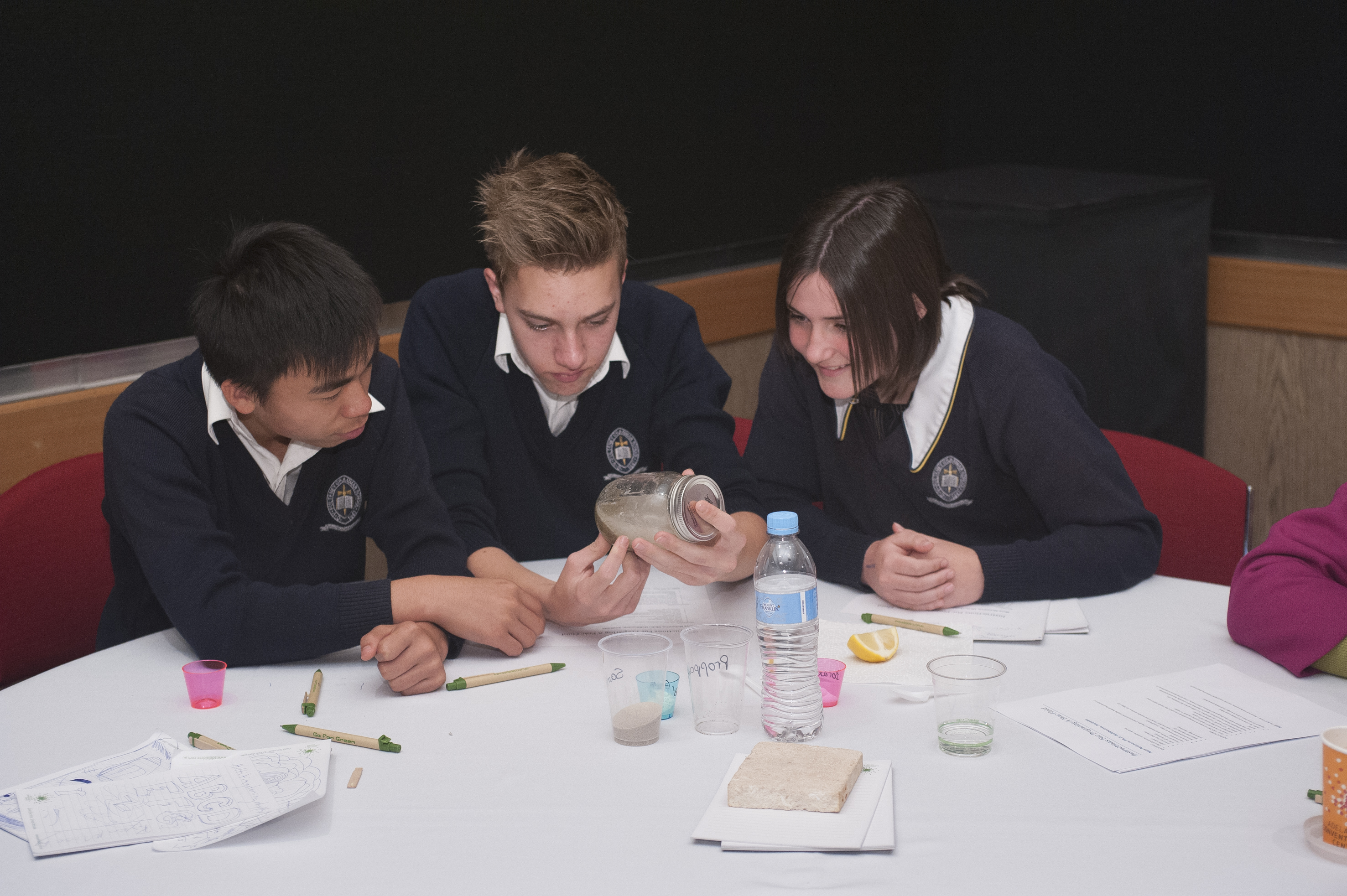 So that's why we study chemistry at school…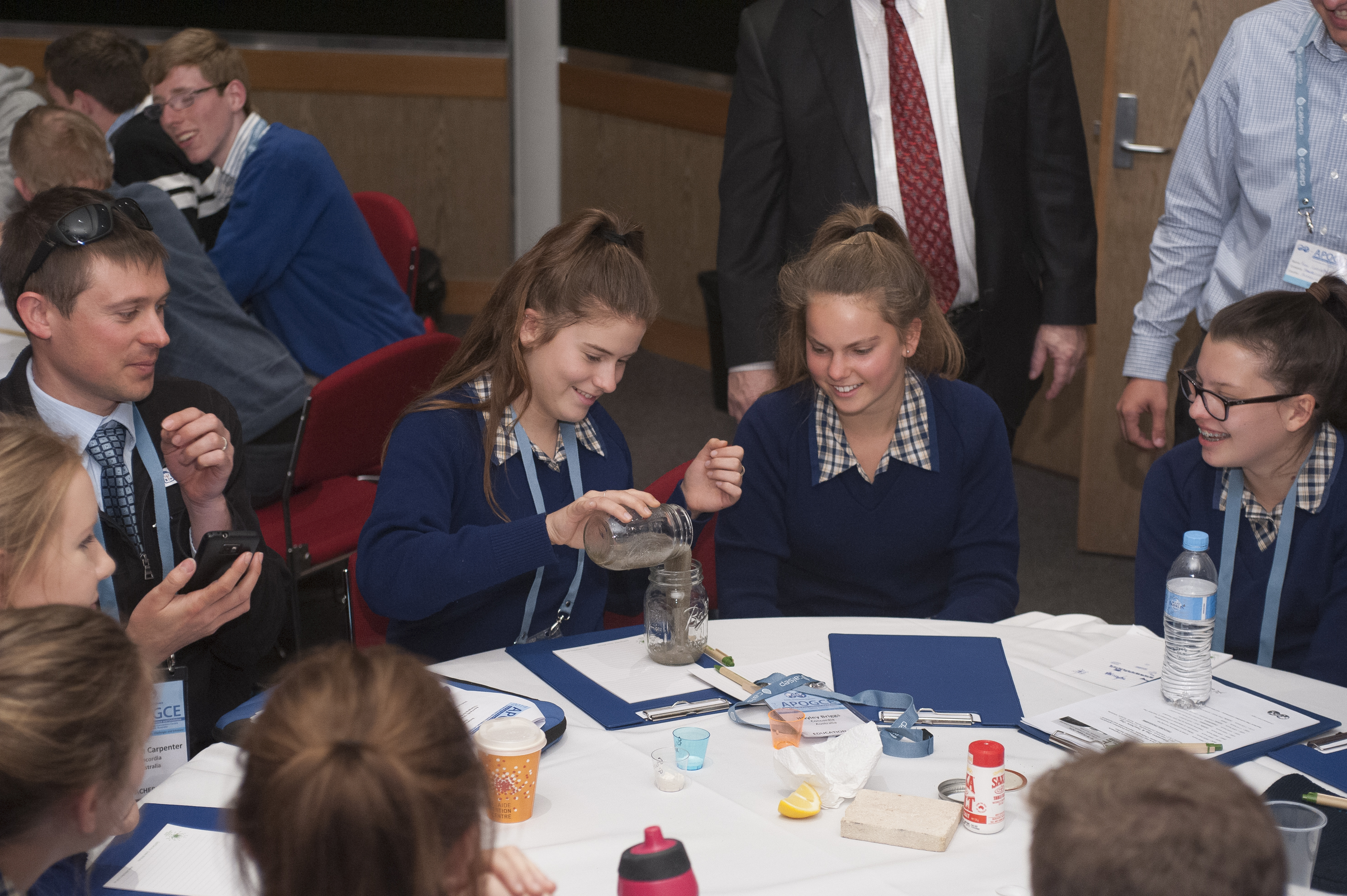 Success at last – the finished frac fluid.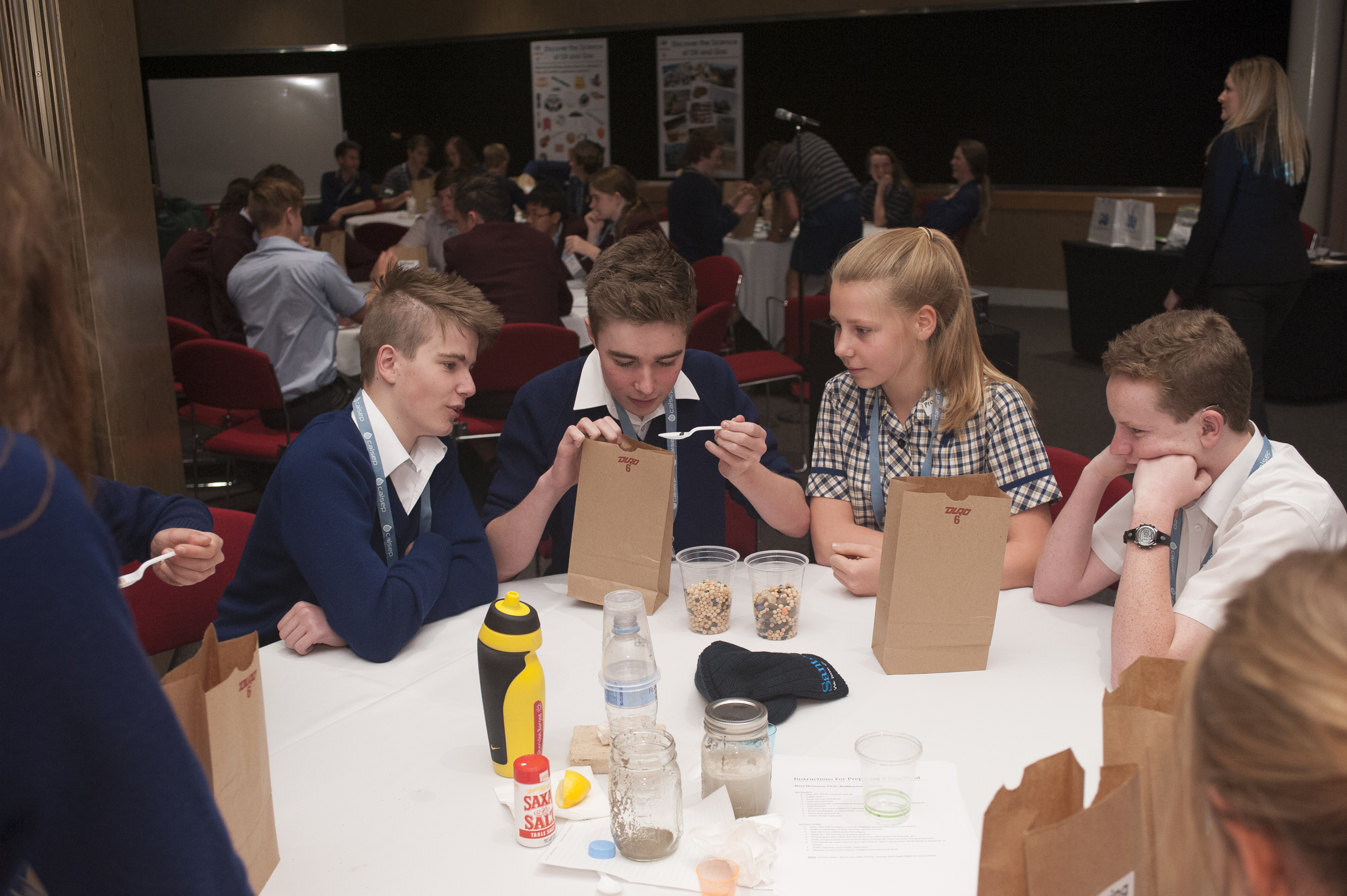 Students digging right into the Energy4Me game 'Peak Oil'.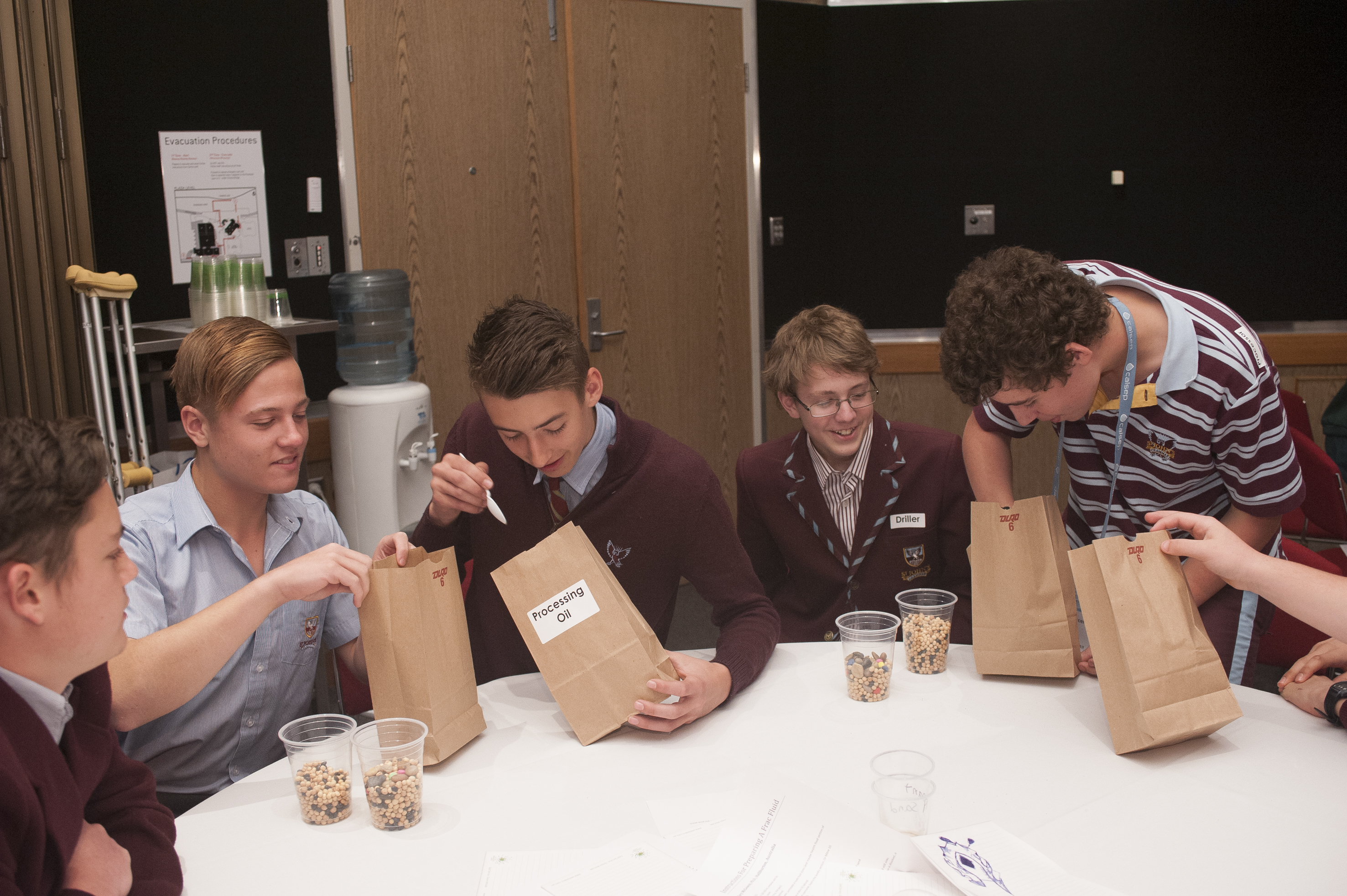 Future production engineers in training!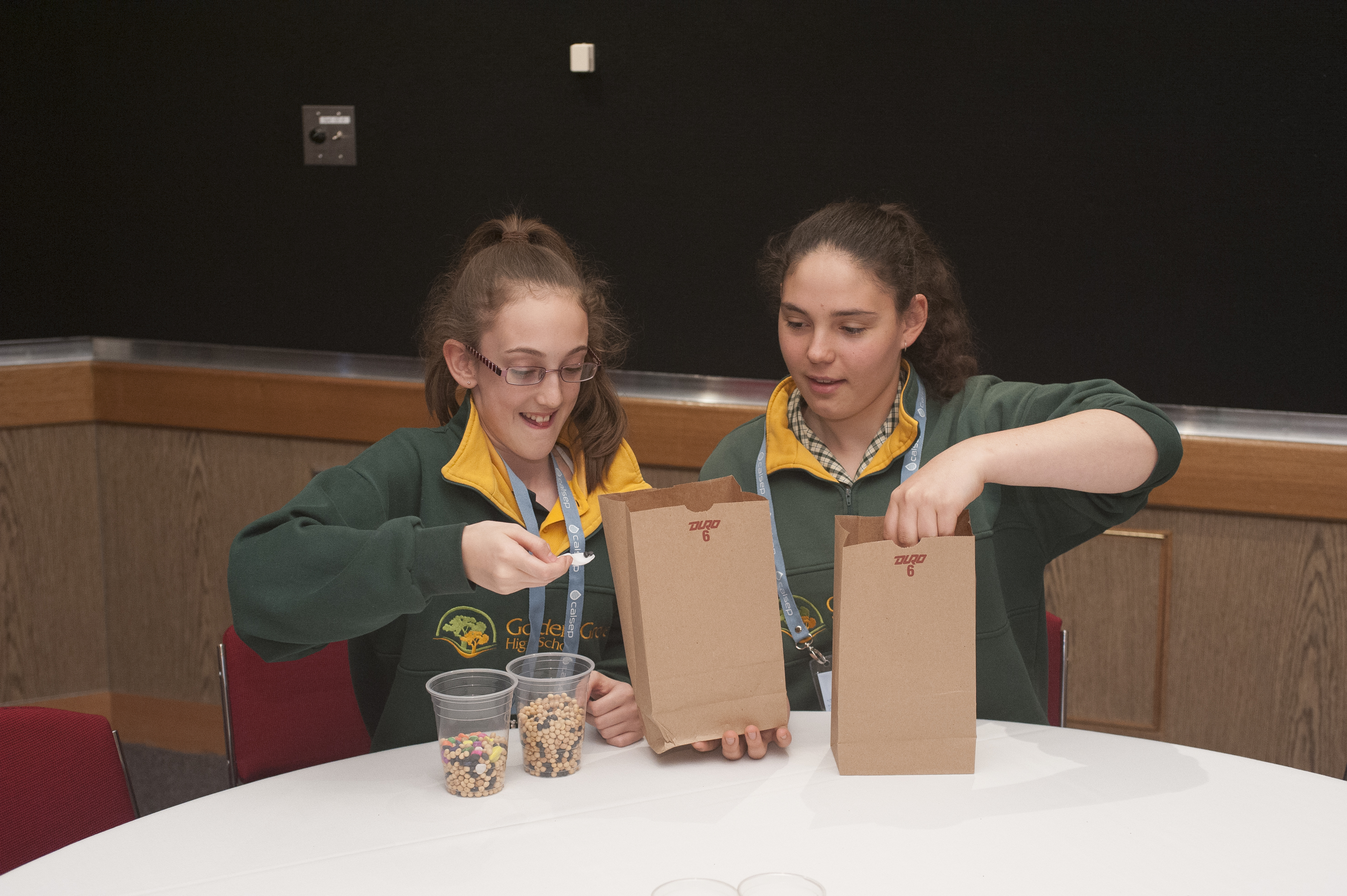 Students may choose to invest in 'better technology' (a longer spoon?) to 'extract' petroleum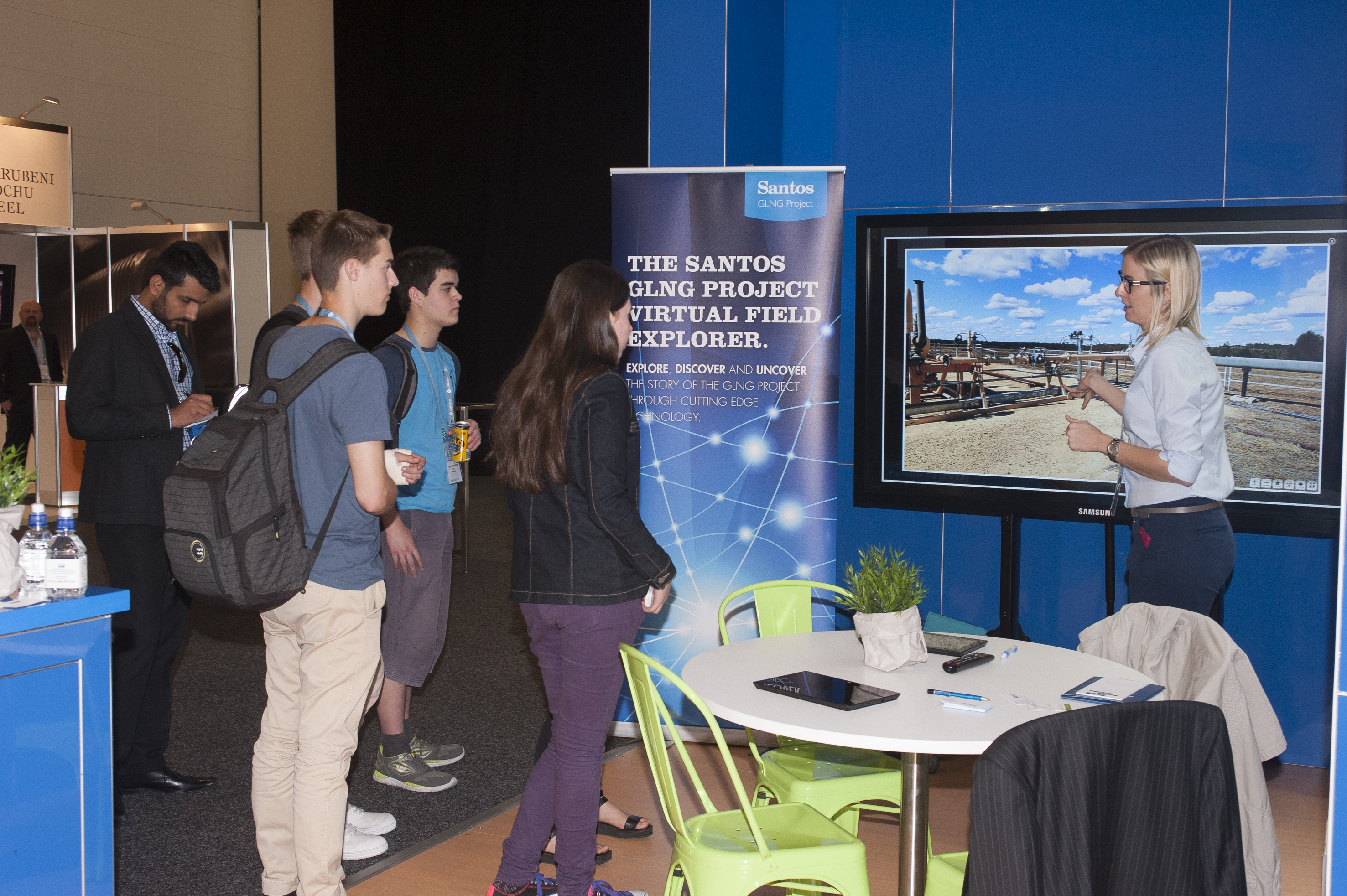 Santos introduces students to the 'virtual field explorer'.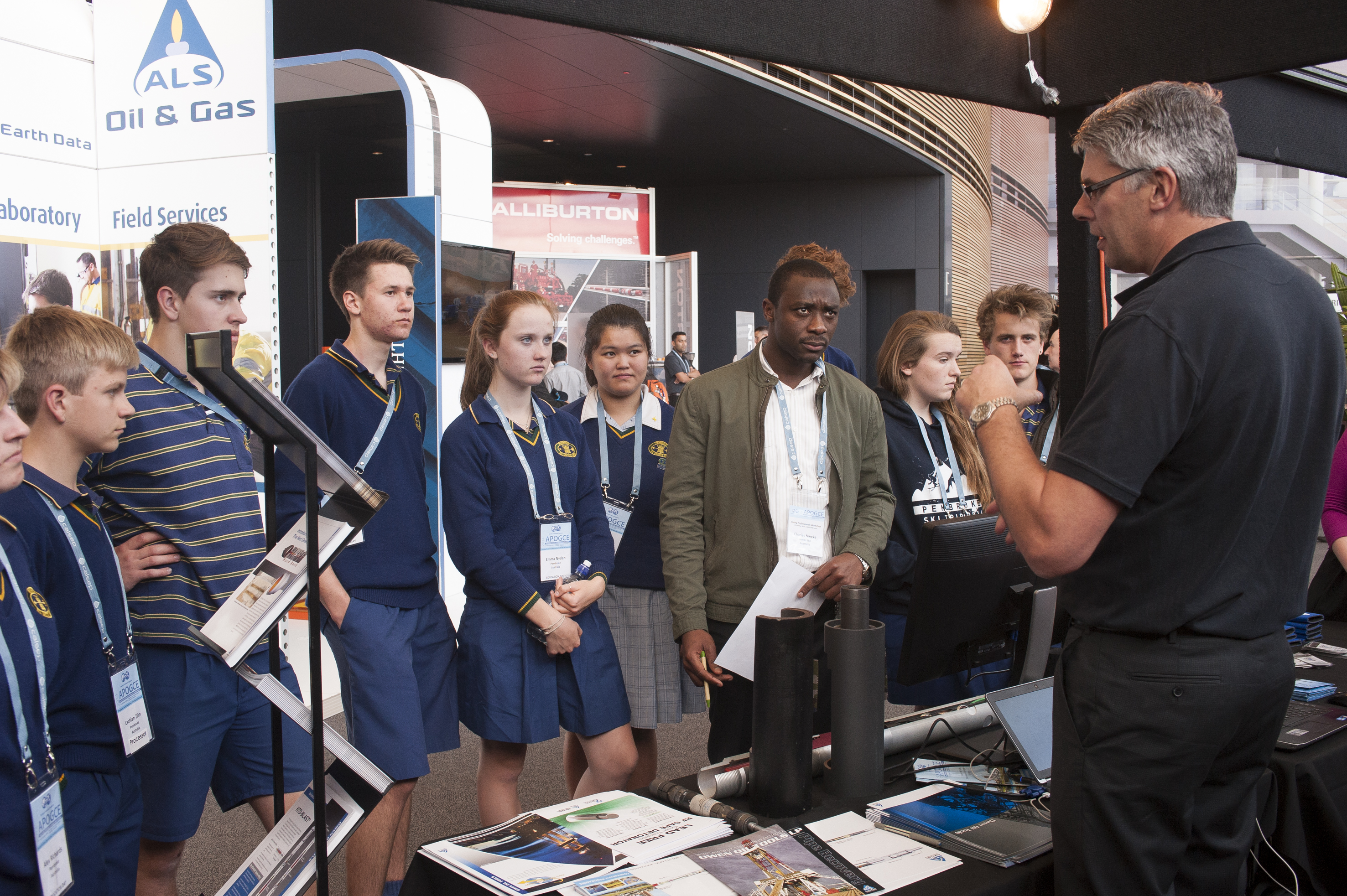 Doug Edmondson (Owen Oil Tools) lectures on 'Downhole Tools 101'.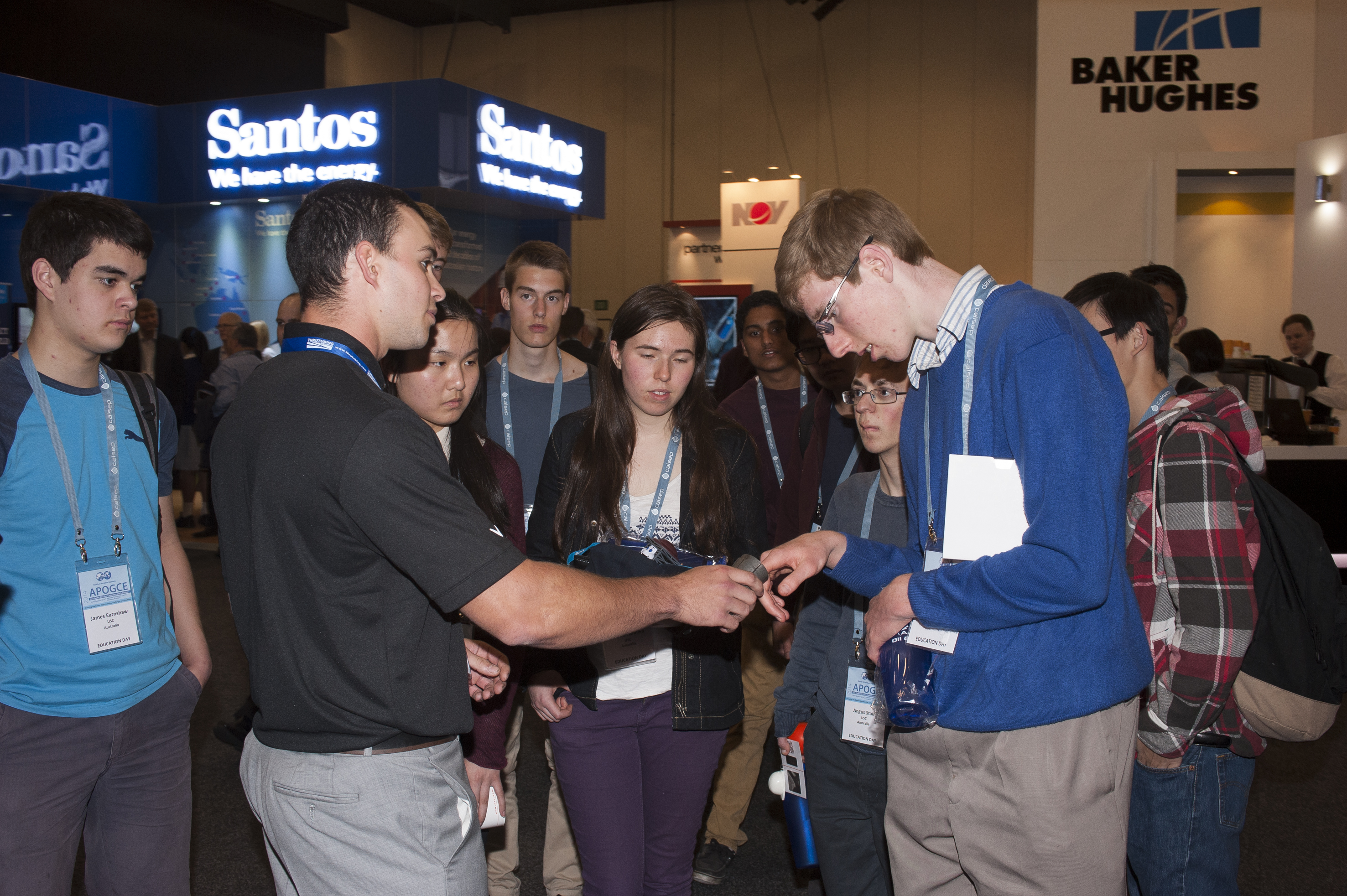 Guess what this is? Innovation can be simple concepts.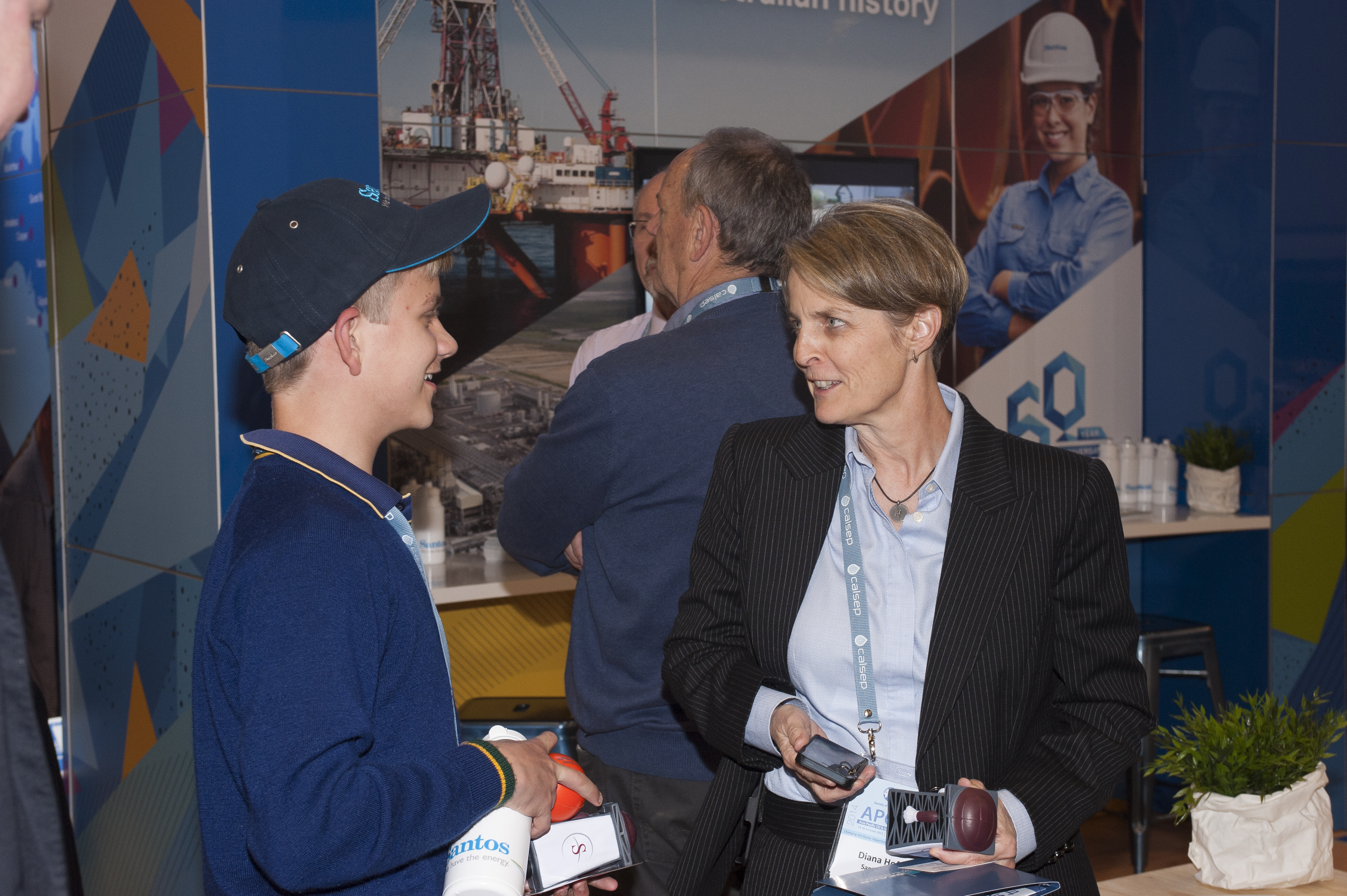 2014 APOGCE Conference Chairperson Diana Hoff finds time to chat with students.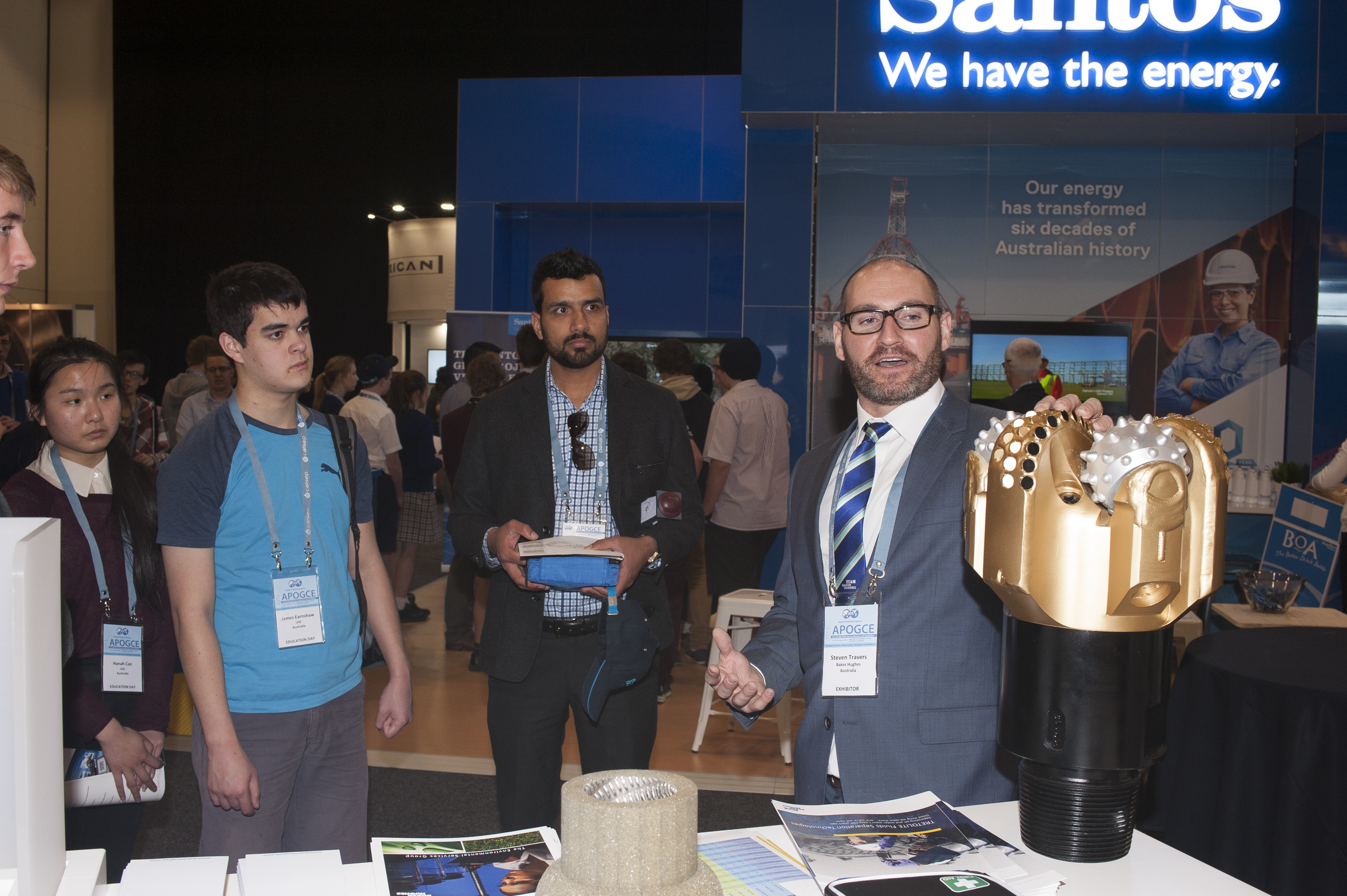 Steve Travers (Baker Hughes) explains the physics behind a drill bit.