SA Section recognised with 2015 President's Award for Section Excellence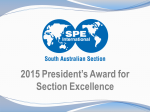 Posted on: 11/08/2015
By Helena Wu (Santos), SPE South Australian Section Chair
The SPE South Australian Section is immensely proud to be selected to receive the 2015 President's Award for Section Excellence.
This award recognises sections that are exemplary in all categories of technical knowledge dissemination, operations, member benefits, society and community outreach, innovation and more. Recipient sections are selected by SPE International based on the Section Annual Report submitted in May each year.
The award will be presented at the President's Luncheon held in conjunction the 2015 ATCE on 30 September in Houston.
The SA Section had a busy 2014, which saw many Officers and Members involved with organising a very successful APOGCE, in addition to maintaining and growing the section's operations throughout the year.
Congratulations to the teams of Section Officers and Volunteers involved with contributing to this fantastic achievement. In addition, thank you to the section's members and sponsors for their ongoing support.
South Australian Section 2014 Committee:
Sharon Cheong, Mark Duerden, Tom Gouldie, James Griffiths, George Hobbs, John King, Tony Lake, David Lindsay, Steve Lawton, Morgan Logos, Jerry Meyer, Euver Naranjo, Darren Nicolson, Dominic Pepicelli, Mark Pitkin (Section Chair), Fidias Vasquez Rivas, Trevor Wadham, Christian Winterfield, Dale Womacks, Helena Wu, Abbas Zeinijahromi.
2014 APOGCE Organising Committees (SA Section members):
Geoff Atherton, Mathew Barley, Steve Begg, Jan Bon, David Capon, Simon Chipperfield, Nicole Ditty, Carl Greenstreet, James Griffiths, Diana Hoff (Conference Chair), Tony Lake (Technical Program Chair), Steve Lawton, David Lindsay, Mary McGowen, Jerry Meyer, Eamonn Montague, Darren Nicolson, Dominic Pepicelli, Steve Travers, Trevor Wadham, Helena Wu (Conduct Chair), Abbas Zeinijahromi.
Numerous other volunteers helping out at various events including Science Alive!, Monthly Technical Luncheons, Annual Dinner, and Education & Teachers' Day, just to name a few…