SPE & ASP @ Ingenuity 2015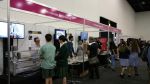 Posted on: 07/12/2015
By Helena Wu, SPE South Australian Section Chair
The SPE South Australian (SA) Section partnered up with the University of Adelaide's Australian School of Petroleum (ASP) to participate in the University's 2015 Ingenuity Expo last month.
Held on Tuesday 27 October 2015 at the Adelaide Convention Centre, the annual exhibition displayed over 250 student projects within the Faculty of Engineering, Computer and Mathematical Sciences. In 2015, five petroleum engineering honours projects were on show.
The free event attracted over 4,500 public attendees including 2,500 school students interested in pursuing Science, Technology, Engineering and Mathematics (STEM) studies.
Led by SPE SA Section Committee Member Mary Gonzalez, who is also a Petroleum Engineering Lecturer and Honours Project Coordinator at the ASP, the SPE SA Section worked with the school to design an interactive booth to showcase how science is applied in the industry.
"Visitors and students had the opportunity to engage in interactive activities and were able to learn and explore the dynamic petroleum world in terms of STEM," said Mary. "It was a really good opportunity for outreach to schools across the age range; (this is) an important part of the future of the petroleum industry."
A small team of SPE members also generously volunteered their time at the booth to speak with visitors and school students. They were able to share their own experiences in the industry, which complemented that of the university students.
"SPE appreciates the opportunity to reach out to school students across a range of ages, and thanks the ASP for the invitation to be involved in this unique event," said James Griffiths, SA Section Community Education Chair.
"On behalf of the SPE SA Section, I would also like to acknowledge Mary's efforts in leading the organisation of the booth, as well as initiating the partnership between SPE and ASP in community education events."
The Section looks forward to helping ASP again in the 2016 event – save Friday 28 October 2016 in your calendars!