SPE SA encourages young thinkers at 2015 School Mathematics Competition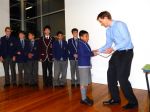 Posted on: 03/07/2015
SPE SA encourages young thinkers at 2015 School Mathematics Competition
By Helena Wu (Santos), SPE South Australian Section Chair
Since 1998, the SPE South Australian (SA) Section has been an avid supporter of the School Mathematics Competition for SPE Prizes run by the Mathematics Association of South Australia.

This annual event aims to encourage interested and motivated students to enjoy the challenge of solving non-standard problems. The competition emphasises logical exposition and full working of solutions.

"We believe the competition style reflects how engineers solve problems in our industry," said James Griffiths, SPE SA Section Community Education Chair. "Equal if not greater importance is placed on the thinking process and on articulation, than actually arriving at a correct answer."

Over 2800 South Australian primary and secondary school students participated in the 2015 competition held back in March. The Presentation Night was held last week, on Wednesday 24th June.

As the naming rights sponsor, the SPE SA Section had the opportunity to address over 500 students, parents and teachers in attendance, as well as present certificates and monetary prizes.
James spoke as the SPE representative, introducing SPE and explained why the local section continues to invest in encouraging Science, Technology, Engineering and Mathematics (STEM) studies.

"We see this (SPE's sponsorship) as an investment in the next generation of talented students who will become tomorrow's engineers and leaders," said James.

Following the official proceedings, a number of inspired students and interested parents took the opportunity to speak with SPE representatives about career paths and opportunities in the oil and gas industry.

Congratulations to all students who participated in the 2015 competition!