SPE SA ignites young imaginations at 2015 Science Alive!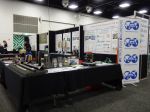 Posted on: 11/08/2015
SPE SA ignites young imaginations at 2015 Science Alive!
By Helena Wu (Santos), SPE South Australian Section Chair
25,000+ visitors, 27 SPE volunteers, 15 sponsors/supporting companies, 3 days of non-stop activity and fun…
With Science Alive! behind us for 2015, the SPE South Australian (SA) Section Committee reflects on another successful outing at one of Australia's premier science and technology expos.
This year, the three day annual celebration of science (7-9 August) held as part of National Science Week, expanded to take up both the Goyder and Jubilee Pavilions at the Adelaide Showground.
Once again, SPE SA shared a 36 square metre booth titled 'Discover the Science of Oil & Gas' with the local PESA and ASEG chapters. The SPE side was led by James Griffiths, SPE South Australian Section Community Education Chair, working closely with Carrie Trembath, his PESA/ASEG partner in crime.
The SPE booth design was inspired by the successful hands on activities incorporated into the 2014 APOGCE Education and Teachers' Day.
"Earlier this year, we engaged our section members canvassing ideas for hands-on exhibits and activities that would inspire young curious minds," said James.
"The response was fantastic and we are thankful to the generous local companies and organisations in donating small give-aways (sponsors) and lending SPE exhibits to showcase (supporters)."
The booth was extremely well received with all 'trade show' style exhibits proving popular with older students and adults. The younger audience was kept enthralled with simple experiments and activities designed to illustrate basic science concepts used in our industry.
Without doubt, the most popular activity was the science of mixing frac fluids with common household items, including ice cream. This was enthusiastically planned and executed by Elham, James and Jason from Condor Energy – well done team.
Acknowledgement also goes to Mary from Halliburton for eagerly running a similar activity on the Sunday.
The event would not have been possible without our numerous booth volunteers generously donating their time, as well as…
Booth Supporters and Sponsors: Australian School of Petroleum, Beach Energy, Condor Energy, Cooper Energy, Department of State Development, Halliburton, NOV, Owen Oil Tools, Paradigm, Petro-king, Petrolab, Pro-Test, Santos, Schlumberger and Stealth Tools.
Stay tuned for the 2016 edition!
See all the photos in our photo gallery