SPE SA @ Portside Christian College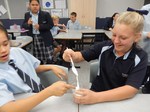 Posted on: 24/06/2016
SPE SA @ Portside Christian College
by: Jessica Wrigley
The Society of Petroleum Engineers, South Australian Section, as part of the SPE Ambassador program was invited to Portside Christian College on the 17th May 2016 to present Year 7 educational workshops. Two classes were presented to with 25 and 26 students respectively in each session.
Jess started the presentation with an Energy pop quiz which started the students thinking about the importance of energy and petroleum. The increasing demand of energy projected for the future was highlighted, and many were inspired by the prospects of the importance of their generation to ensure sustainability and renewable resources.
The various types of petroleum engineers were presented, and rounded off with Jess sharing her current career path. Many students were very intrigued by the replica drill bit that she had brought along!
The students learnt the importance of using the correct fluid chemistry during drilling operations, which led into two quick experiments on creating different types of fluids. Magic mud was created using corn flour and water, which created the non-Newtonian fluid which looks liquid until a force is applied. The students then created a fracture stimulation fluid, which utilized water with guar gum and borax to create a slime-like fluid!
The experiment highlighted how small amounts of additives can change fluid properties of water to those that are required for various operations such as drilling and fracture stimulation.
Overall, the students were intrigued by the world of energy and oil and gas, and were not short of questions to ask Jess!