SPE SA Section congratulates 2015 SPE Prize Winner!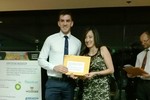 Posted on: 20/01/2016
SPE SA Section congratulates 2015 SPE Prize Winner!
By Helena Wu, SPE South Australian Section Chair
The SPE South Australian Section congratulates Australian School of Petroleum (ASP) student John Babadimas, for being awarded the 2015 SPE Prize for the Best Honours Project Presentation by Petroleum Engineering Students.
The South Australian Section has sponsored this ASP prize for a number of years now, in recognition of quality technical projects completed and communicated clearly and concisely. The prize recipients are selected from assessments made by both ASP lecturers and invited industry professionals.
John recently presented his project titled "Production Due to Trapped Gas Expansion in Water-Drive Gas Reservoirs" to local SPE members and industry colleagues at the SPE South Australian Section Xmas Drinks function held on Wednesday, 2 December 2015 at Beach Energy.
The talk presented a method in the reservoir simulation software ECLIPSE, that could more accurately model trapped gas expansion and remobilisation as secondary drainage flow. The presentation was well received with the insights and models presented applicable to many water-drive gas reservoirs. As John explained early on in his talk, imbibition-only relative permeability is commonly used to model water influx in water-drive gas reservoirs but an aquifer is rarely strong enough to maintain constant pressure support. This results in continued depletion in the part of the reservoir swept with water, which causes expansion of residual gas and remobilisation.
In addition to John's talk, three other groups were nominated by the school to share a brief 'taster' of their honours projects with the audience:
• Laboratory Study of Low-Ionic Strength-Induced Migration of Clay Particles in Unconsolidated Rocks (M. Kardasz, N. Mileusnic and A. Trimper)
• Optimization of Soaking Time in Coal Seam Gas Reservoirs (N. Ahmad Rezam, H. Ismail and M. Yunas)
• Experimental Research on Rheological Properties and Proppant Transport Performance to Optimise Carbon Dioxide Fracturing Fluid Systems (J. McLaughlin, V. Naidu and B. Venner)
The SPE South Australian Section would like to thank Beach Energy for providing the venue for the function, as well as Steve Lawton, Trevor Wadham and their many other helpers for organising a successful and enjoyable event.