SPE SA Showcases at 2014 Science Alive!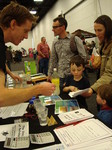 Posted on: 15/08/2014
How do you keep over 20,000 students, parents and children of all ages, dazzled and entranced in the science of oil and gas?
After months of planning, chasing down exhibits and enticing volunteers, SPE South Australia brought the science of oil and gas to life, at the recent 2014 Science Alive! event. In its first foray into this annual expo, the SPE South Australian Section partnered up with the local PESA and ASEG sections to share a 6m x 6m booth titled 'Discover the Science of Oil and Gas'.
Held from 8-10 August at the Adelaide Showgrounds, Science Alive! is a three day science and technology expo which attracted over 4,000 students on the Friday 'Careers Day' and an estimated 20,000 children and parents on the weekend public opening.
Attendees were provided with an understanding of the petroleum lifecycle, starting from generation and migration, right through to production and integration into everyday society. Booth volunteers made up of SPE, PESA and ASEG members were kept busy dispelling common perceptions of oil and gas being found in underground caverns. Many were also surprised by the numerous everyday products made from petroleum!
Prior to the event, Energy4Me and SPE Regional Director, John Boardman, made a special donation of Energy4Me materials to the section, which were well utilised for the event.
The SPE SA Section Committee would particularly like to thank James Griffiths, Community Liaison Chair, for his excellent organisation and coordination of the event on behalf of SPE, as well as Carrie Trembath from PESA.
Thank you also to the following sponsors for donating small giveaways that proved popular with both children and parents alike: Santos, Baker Hughes, Halliburton, Schlumberger, Beach Energy, Ikon Science, Geokinetics, Task Fronterra Geoscience, Chemostrat and Precipice Training.
The thinking caps are already out to ensure next year's booth will be even bigger and better!
Author: Helena Wu
Photos: More photos of this event are stored under the Photo Gallery