SPE SA @ STEM Middle School Conference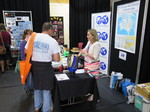 Posted on: 04/02/2016
SPE SA @ STEM Middle School Conference
by: Jessica Wrigley
The SPE South Australian Section (SPE SA) attended and sponsored the Science Technology Engineering and Mathematics (STEM) Middle School Conference 2015, held on November 27th last year.
This event was a combined conference run by the Mathematical Association of South Australia (MASA) and the South Australian Science Teachers Association (SASTA) for promoting STEM to middle school teachers. There were over 200 teachers in attendance with 30-40 workshop sessions held over the day and a small exhibition comprising of informative and interactive booths displayed by sponsors.
SPE SA took part in this event by setting up an exhibition booth and also facilitated a workshop session, designed and ran by Jessica Wrigley (SPE SA Community Education Subcommittee Member), on "Petroleum Mathematics".
The booth was extremely successful with teachers taking interest in drilling bits, a composite frac plug and also the SPE Energy4Me program and resources.
Seven teachers attended the SPE workshop and were very interested in learning about the petroleum industry and some of the everyday math of a drilling engineer! Jess had the teachers solve how big a cuttings pit needs to be for a specific size of well, and also a hands on activity on packing sizes and porosities. The hands on activity spurred a bit of competition between the teams, generating the least amount of porosity with various sized marbles in a beaker!
Involvement in these events are as part of new initiatives of the SPE SA Community Education Subcommittee. This committee aims to raise the awareness of STEM education with industry links, supporting local science, technology and engineering events and school visits throughout the year.
For more information on Energy4Me visit energy4me.org or for more information or to get involved with SPE SA Community Education initiatives, please email community@spe-sa.org.