SPE Student Chapter - SPE vs CHEMS Soccer Match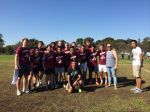 Posted on: 18/09/2014
On the 29th of August, Petroleum and Chemical Engineering students at the University of Adelaide gathered for the annual SPE vs CHEMS soccer match hosted jointly by the Society of Petroleum Engineers (SPE) student chapter and the Chemical Engineering society (CHEMS). The match is always a hard fought contest for the cup - and most importantly, a years worth of bragging rights.The event also acts as a fundraiser for Engineers without Borders, with players and spectators each bringing a gold coin donation to help support humanitarian engineering projects.
This year we were lucky to have fantastic weather, which saw many students come out to cheer on their respective teams while enjoying the barbecue and sunshine.While previous years have seen the SPE dominate, CHEMS had recruited a strong team determined to break a three year losing streak.Three early goals saw SPE take a convincing lead, however CHEMS fought back, finding the back of the net not long after.
After a rush to the barbecue during the break, CHEMS rallied and scored another goal to equalize. With momentum on the Chemical Engineers side, the match looked set for an exciting finish. SPE scored two more goals to seemingly seal the game. Despite a late comeback by CHEMS, SPE held on winning 5-4 in a spectacular performance.The event was a great success, providing an opportunity for students to connect with their peers in a friendly rivalry, while raising money for an excellent cause.
Author: Sophie Kass | SPE SA Student Chapter
Photos: more photos of this event can be viewed under our Photo Gallery