SPE Technical Visit (Petrolab)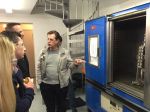 Posted on: 13/10/2015
On Tuesday 1 September, Petrolab hosted a technical site visit at their Magill facility exclusive to South Australian SPE members.
The visit is part of a new initiative organised by the South Australian SPE Section, aiming to provide practical learning opportunities to members.
Twelve South Australian SPE members took part in the technical site visit, which involved a tour of Petrolab's oil and gas testing laboratory. Participating members came from various sectors of the petroleum industry including operators, service providers, academia and government.
The tour guides from Petrolab were company founder, Jan Bon along with managers Paul Bon and Jan Bon Jr. Much information and experience was shared during the visit regarding the reservoir fluid sampling process and the various tests that are conducted on fluid samples, such as:
• PVT experiments at reservoir conditions;
• compositional analyses;
• miscibility experiments for enhanced oil recovery; and
• solid deposition experiments.
As part of the visit, members were able to inspect the instruments used by Petrolab close up. Live demonstrations were also shown throughout the tour, which included examples of a bubble-point and dew-point test.
SPE members were intrigued over the half day visit, resulting in several questions to the staff at Petrolab. One of the participating members on the day, Piotr Sapa, said that the site visit was, "informative and valuable to see first-hand how reservoir fluid parameters are measured before the data is received in the office."
The South Australian SPE Section fully thanks Petrolab's team and the South Astralian SPE Section Program Committee for hosting and organising this event.
Keep your eye out in future for more technical site visits organised by the South Australian SPE Section for its members.