Tom Gouldie Reaches 40 Years of SPE Membership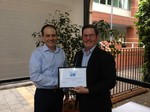 Posted on: 27/06/2016
Tom Gouldie Reaches 40 Years of SPE Membership

In May 2016 the South Australian SPE Section acknowledged and congratulated Tom Gouldie for reaching 40 years as a member of SPE.

Tom's career in the petroleum industry began in 1974 working for Texaco over a summer while at university in the swamps of Louisiana, and his first professional work was in 1976 working for Standard Oil of California in New Orleans. Since then Tom has worked in production, reservoir, drilling and operations in Louisiana, Saudi Arabia, California and throughout Australia. Notably during his career Tom published and lectured in the areas of contracting strategies and wellsite health and safety.

Over the years Tom's SPE activities have included serving as South Australia Section Chairperson and as Chairperson of the SPE Australia/New Zealand/Papua New Guinea Council. He has also been a member of or chaired SPE committees for the Reservoir Engineering Award, the Lester C. Uren Award, the HSE Award and the inaugural combined committee for the Carll, Lucas and Uren awards. Elected an SPE Distinguished Member in 2001, Tom received the SPE HSE award in 2006, the Distinguished Service Award in 2008, and the DeGolyer Distinguished Service Medal in 2011, the first time this award has been given to a person from the southern hemisphere.

In addition to his SPE membership, Tom is a Fellow of the Institution of Engineers Australia, is a Chartered Professional Engineer and Registered as a Professional Petroleum and Management Engineer in Australia, and is a Licenced Professional Petroleum Engineer in Louisiana.
Tom has a Bachelor of Science in Petroleum Engineering, a Professional Certificate in Arbitration and Mediation, and a Certificate IV in Training and Assessment. He has also recently entered into the SPE Petroleum Engineering Certification Programme and been made a Member of the Australian Institute of Company Directors.

The South Australian SPE section again congratulates Tom on this exceptional 40 year milestone.
Image Caption: Steve Lawton (South Australian SPE Section Chairperson) and Tom Gouldie at the May 2016 SPE technical luncheon.